Yesterday students learned about valence electrons. Valence electrons are the outermost electrons and are the electrons that are used for bonding and participate in reactions. Valence electrons are only found in the S and P blocks. The max number of valence electrons is 8. Students practiced counting valence electrons and drawing Lewis Dot Structures.
Students also practiced identifying which noble gas an element wanted to be like. All elements want to be like two noble gases - it is just a matter of figuring out which is closer. Elements want to be like noble gases because they have full outer electron shells, or full valences. This makes them stable and non reactive which is why noble gases are sometimes called the inert gases.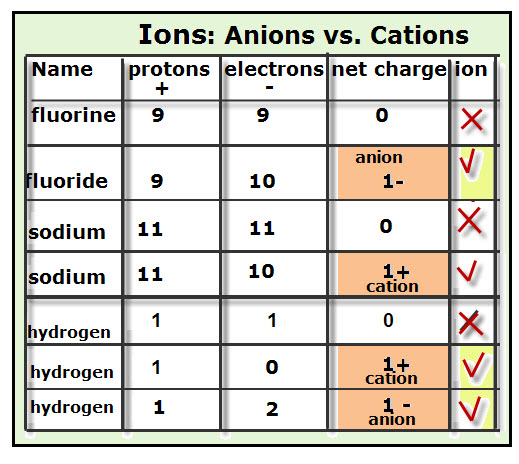 Today students learned how to use valence electrons and dot structures to determine the charge of an atom. Atoms either want to gain electrons or lose electrons to become like those noble gases they envy.
Ions are atoms or molecules that have a net charge, either positive or negative. There are two kinds of ions:
Anions are negatively charged ions because they have negative net charges. This means that there is a greater number of electrons (-) than protons (+). For example, the anion, fluoride (F 1-), has a one negative charge because it has a total of nine protons and ten electrons. Thus, the net charge for fluoride is 1 negative.
Cations are positively charged ions because they have positive net charges. This is due to these ions having more protons (positive charges) than electrons (negative charges). For example, calcium (Ca 2+) is a cation ion with 20 protons and 18 electrons. The net charge for Calcium is 2 positive. (from here)
Students also learned how to identify the charges of metals with more than one oxidation state using Roman numerals. Metals in the D, F, and lower P get Roman numerals - basically all metals but the S block, Aluminum and Boron get roman numerals.
The roman numeral tells you the charge.
We have to use this system because those odd metals can actually be found in more than one form - some with 2 possible charges - some with more than four!
Tonight's homework is Box A and E on the orange sheet.
The end of the nine weeks is March 11th.